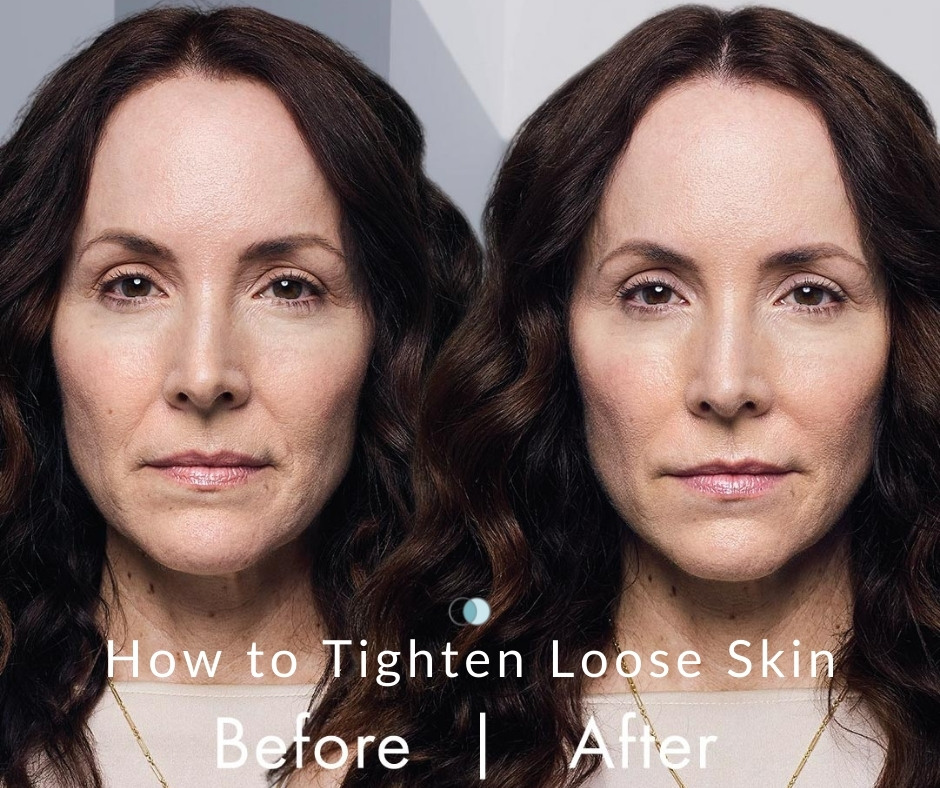 Loose skin can happen anywhere on the face or body and can be caused by a myriad of reasons, including decrease of collagen production, genetics, gravity, and trauma (such as routinely rubbing the eyes). Palo Alto Laser and Skin Care offers a variety of treatments to tone and tighten skin without the risks and downtime associated with surgery.
Thermage FLX
The right treatment—or treatments—for loose skin depends on severity, location, and cause. One of the best treatments for loose skin is Thermage FLX, which uses radiofrequency (RF) to heat the deep layers of tissue below the skin's surface as a form of collagen induction therapy while leaving the top layer intact. Results are astonishing and typically just one treatment per site is needed for results that last up to two years. One of the best perks about Thermage FLX is that it can be used on larger areas such as the stomach. The outcome is so impressive that many clients find it an excellent alternative to more aggressive, invasive procedures such as cosmetic surgery.
While Thermage FLX is a popular solution for treating loose skin in many areas, it's not the only option—especially if you're concerned about small and precise areas like around the eyes.
Fillers and Botox for Skin "Tightening"
Sometimes "loose skin" is actually areas of hollowness, particularly in the face. As we get older, we lose not only collagen but also volume. You might notice a hollowness in the cheeks, under the eyes, and of course in the lips. Simply "tightening" the skin through a method like Thermage FLX isn't going to give you the results you want because what's needed is a restoration of volume. That's where dermal fillers and boosters come in.
Dermal fillers are typically made of synthetic hyaluronic acid (HA) and literally "fill" the areas where volume is missing. Results are instantaneous, though some redness, swelling, and bruising may be visible for a few days. HA fillers can last anywhere from 6 – 18 months, depending on the treatment site, units, and type of fillers. "Boosters" are a filler that is not made with HA and depends on collagen induction. It's a subtler, slower approach that may be desired by some clients in some areas (such as the tops of the hands).
Botox and other neuromodulators can also help in some areas where "skin tightening" is required. These injectables stop wrinkles and lines in their tracks by temporarily paralyzing the muscles that cause them. Skin might not be necessarily "loose," but rather muscles may have fallen into the habit of creating wrinkles—and in turn the appearance of loose skin.
Laser Skin Rejuvenation
You can also tone and tighten skin while improving texture with laser skin treatments. We have a wide range of lasers and energy-based therapies available, many of which are touted with the ability to reduce lines and wrinkles while tightening the skin. Lasers work in different ways, but all "tell" the body to produce more collagen at the needed site. Collagen is our body's natural fountain of youth and a necessity for treating "loose" skin.
Of course, there is a point where surgery may be necessary to get the results you want. However, for many clients, that is actually farther down the road than they think. Many times, you can achieve incredible results with non-invasive and minimally-invasive treatments and procedures. We can work together to establish your goals, consider your current skin condition, and create a realistic plan to help you love the skin you're in. A combination of treatments is often best to help you get the look that you want quickly and safely.
More than a medical day spa, staff members are personally trained and supervised by Zuzana Likar to the highest of standards. We offer complimentary consultations on all treatments so you know you're getting the best expert care for the most outstanding results. To learn more about these treatments and other offers at Palo Alto Laser and Skin Care, schedule a complimentary consultation today by calling the office or filling out the online form.