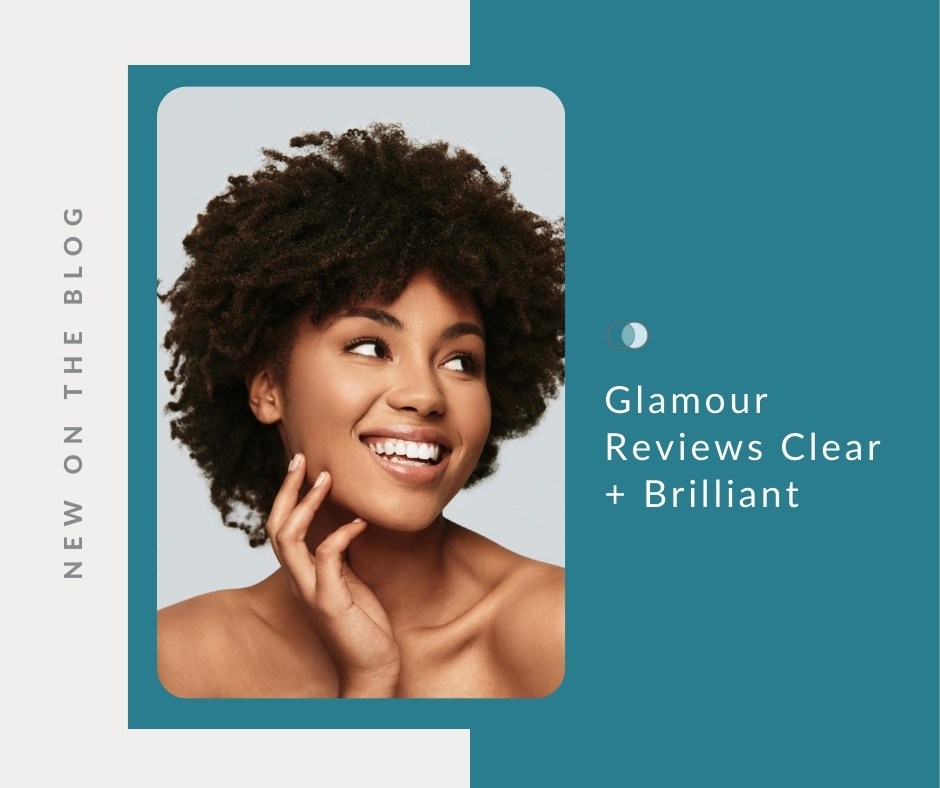 Clear + Brilliant is the gold standard in lasers for pre-juvenation. It is consistently recommended as the go-to laser treatment for younger patients who both want to prevent premature signs of aging while reducing those that are already present. At Palo Alto Laser and Skin Care, we recommend Clear + Brilliant for clients of any skin tone who are looking for a series of treatments requiring little to no downtime. It is also a popular laser pick for the summer months because it doesn't render skin quite as hyper-sensitive to UV damage as more aggressive lasers. Recently, Hilary Sheinbaum with Glamour underwent her own series of treatments and shared the experience and results.
Sheinbaum mostly struggles with acne and lingering acne scars. She says that in college she had perfect skin, but once she made the move to New York City, her combination skin "went from normal to nonsense." Multiple types of acne began popping up, including cystic acne which can be quite painful and leave scars. She moved right after college and has been in the city for five years now. Her skin has improved a little, but she still has scarring from those earlier breakouts. When she heard that Clear + Brilliant can help with texture and tone while minimizing pores, she says she "had to try it." Even though she knew four initial sessions are typically recommended for optimal results, she signed up for only two.
Clear + Brilliant for Acne
It is important to remember that while Clear + Brilliant can help with light acne scarring, it's not an "acne laser." Plus, cystic acne scarring is typically deeper and more severe than scarring caused by other forms of acne. Perhaps Sheinbaum did not seek out the right laser (or her provider possibly should have nudged her in another direction). During her consultation, she says the provider recommended her to stop eating gluten while warning her about potential side effects, like temporary redness. The treatment then followed, which was around 20 minutes and Sheinbaum describes it as "fairly painless." It began on her forehead and continued to her cheeks and chin. Sheinbaum says, "My face felt really warm, and I could feel little, mild pricks, but nothing unbearable."
She was ready for some redness after her treatment, but was pleasantly surprised to find that it wasn't as bad as she expected. "My face did look a bit pink—kind of like I had a sunburn—but immediately my pores looked smaller and my skin tone seemed more even." Two hours later, the pinkness had disappeared entirely. She notes that she was even able to wear makeup two hours later.
After her second session, she points out that the results she really wanted—less acne scarring—weren't as good as she had hoped. They had initially lessened after each treatment, but lightening did not last. "It was great to enjoy a new glow," she says, but what she really wanted was to get rid of those cystic acne scars. Sheinbaum says, "If you have less intense acne scars and have a big event coming up that you want to prep for, it's definitely worth trying. But if you (like me) are looking for something that'll make marks vanish, your skin will probably need a more aggressive laser treatment than this one."
This is not "news," since Clear + Brilliant is not designed for severe acne scarring. The smaller pores, more even skin tone, and glow that Sheinbaum enjoyed post-treatment is exactly what this light laser is designed to achieve. It's important that you work with a provider who listens to you and your concerns, and can then match you with the treatment (or combination of treatments) to achieve your desired results. Clear + Brilliant is a very superficial laser to revitalize skin—not tackle serious skin conditions like cystic acne scarring.
Ideally, you will schedule a consultation with an expert provider who has been expertly trained in order to create a collaborative game plan. There are plenty of lasers to help with cystic acne scarring, as well as other treatments like chemical peels and Morpheus8 microneedling. Getting the right treatment starts with selecting the right provider, and we have the professionals you need to get the results you want. Schedule your consult at Palo Alto Laser and Skin Care today by calling the office or completing the online contact form.